Outline of Pneumatic Caisson Method
What is a Pneumatic Caisson?
The pneumatic caisson method comprises the on-ground construction of a reinforced concrete caisson having a working chamber inside at the lower part, pressurized air supply to the working chamber to prevent underground water from coming in there, excavation work of soils in the working chamber and finally sinking the whole caisson structure. Pneumatic caissons are utilized for a variety of structures: foundations of bridges and buildings and main structures of sewage treatment facilities, underground water regulating reservoirs, shafts for insertion of shield tunneling machines, underground railways, and tunnels.
Principle of Pneumatic Caisson Method
The pneumatic caisson method works on the same principal as a cup holding air its inside and pressed into water upside down: if no air escapes from the cup, little water will enter the cup's interior as air pressure keeps it out. The pneumatic caissons have an airtight chamber at the bottom, into which compressed air is supplied to prevent water from entering. Inside the chamber, soil is excavated just like for the on-the-ground construction work.
Pneumatic Caisson Facilities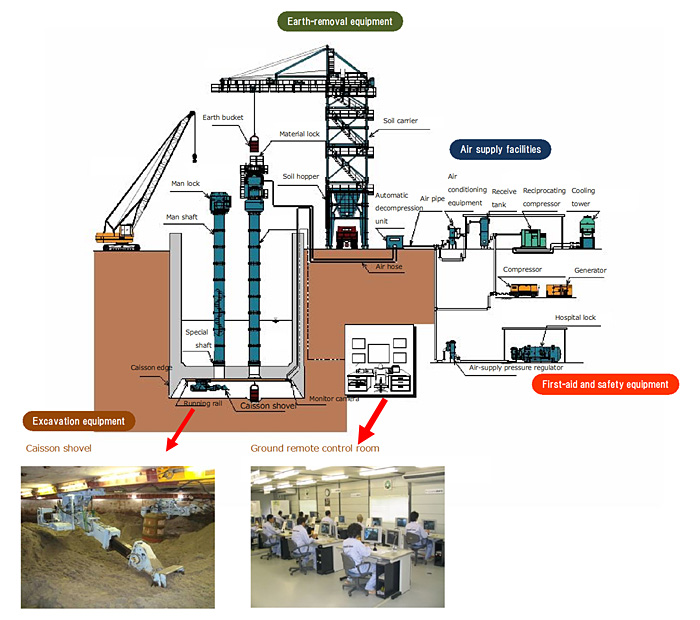 Features and advantages of Pneumatic Caisson Method
Pneumatic Caisson Method has the following advantages.
The compressed air fed in the working chamber is controlled to be so equal to the pressure of groundwater that the surrounding groundwater or soils may not be affected.
Since the working chamber inside is kept dry, an elaborate excavation work is possible by verifying directly the conditions of soil without disturbing the constitution of soil. This also allows the pneumatic caisson to sink in all soil conditions such as viscous soil, sabulosity soil, gems and stones mingling grit and bedrocks.
Since the sinking pneumatic caisson structures themselves become the final underground structures, no temporary earth retaining works are required. This also allows a good use of underground space as much as possible.
Excavation work in the working chamber and construction work on the ground can proceed at once. This saves construction period.
Our developed unmanned excavation system and helium mixed gases breathing system make possible to construct safe and efficient underground structures and spaces in the great-depth underground.
Since the complete reinforced concrete caisson structures have a high rigidity, their side structures and bottom structures jointly bear and resist against heavy loads thereon, the caisson structures are highly earthquake-resistant.
Comparisons with Other Methods
Pneumatic caisson foundations as compared with steel pipe pile foundations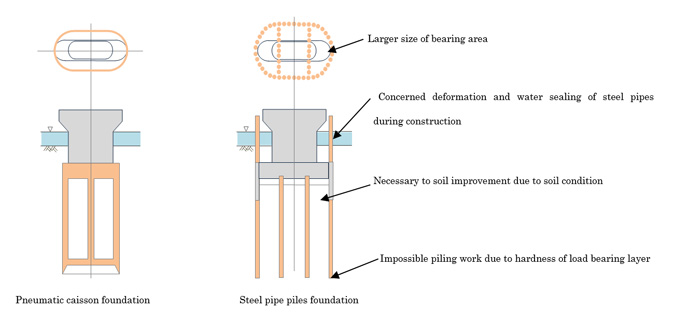 Pneumatic Caisson foundations as compared with Spread foundations